Egg Donor Screening
We asked clinics & agencies:
What's your dream donor screening software?
Then we created it.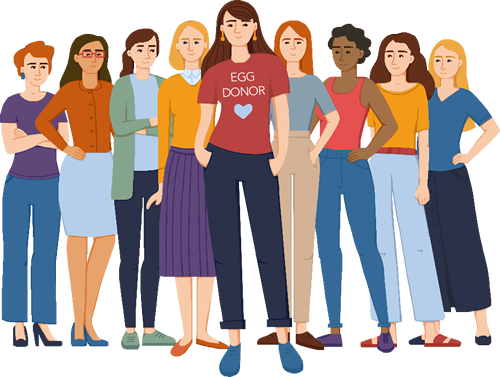 Fully customizable - your clinic or agency's logo, colors, and donor questions.
Mobile-friendly - donors are on their phone more often then ever, so we made the prescreen and full questionnaire easy-to-use on a cell phone.
Inspire donors to finish your questionnaire - a major complaint we heard is that donors would start applying and not complete their questionnaire. So we made our questionnaire colorful, fun, simple, and as fast as possible for donors to complete.
Automation - we work with your donor eligibility requirements to automatically pass or fail donors after they fill out your initial prescreen.
Following up - donors who don't finish your questionnaire get friendly reminder emails sent to them 7, 14 and 28 days afterward.
Help your marketing team find more donors - we integrated with Facebook & Google Ads to show your marketing team the exact ROI for their campaigns.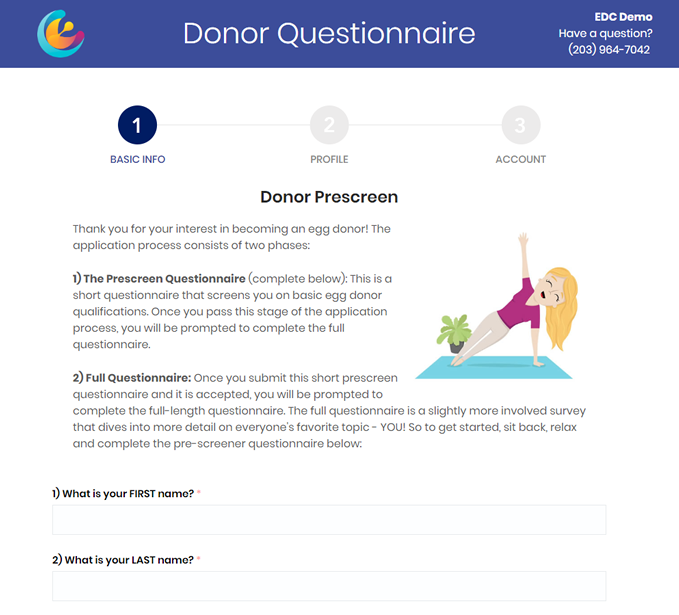 Gorgeous and simple to use prescreens
Donor Prescreen
After your marketing campaign has driven a donor to the donor prescreen - your prospective donor will face a decision - should they fill out your prescreen?
To encourage the largest possible percentage of donors fill out your prescreen, we make it fun, simple and professional. And so they don't feel intimdated by the process, we break up the prescreen into a simple 3-step wizard.
Schedule a Demo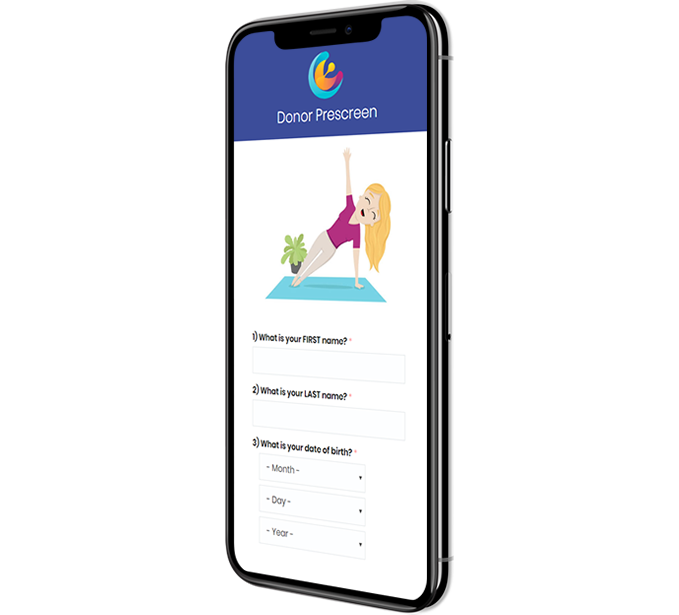 Meet donors where they are - on their phones
Mobile-Friendly
Millennials being on their phone all day has become a cliche, but when it comes to your donor pool - it's serious business.
When we talk with clinics and donor agencies, the biggest complain we hear about our competitors' donor screening process is that they aren't very mobile friendly.
We built Egg Donor Connect from the ground-up to be as easy to use as possible for donors, which is why more than half of donor prescreens and full questionnaires on our platform are entered on a cell phone.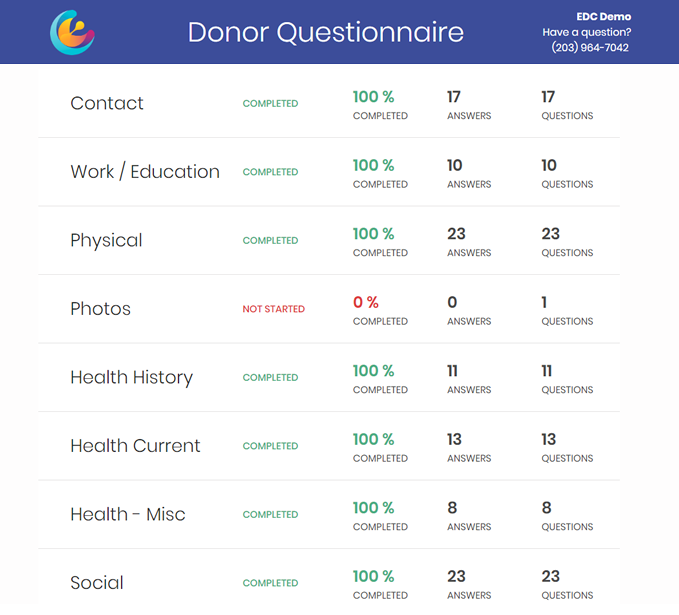 Donor Questionnaire Dashboard
Full Donor Questionnaire
For donors who pass the automated eligibility requirements in your prescreen, they can begin entering in your full donor questionnaire.
They are greeted with a simple dashboard that shows them each section of your questionnaire, and tracks their progress in real-time to encourage them to finish their application.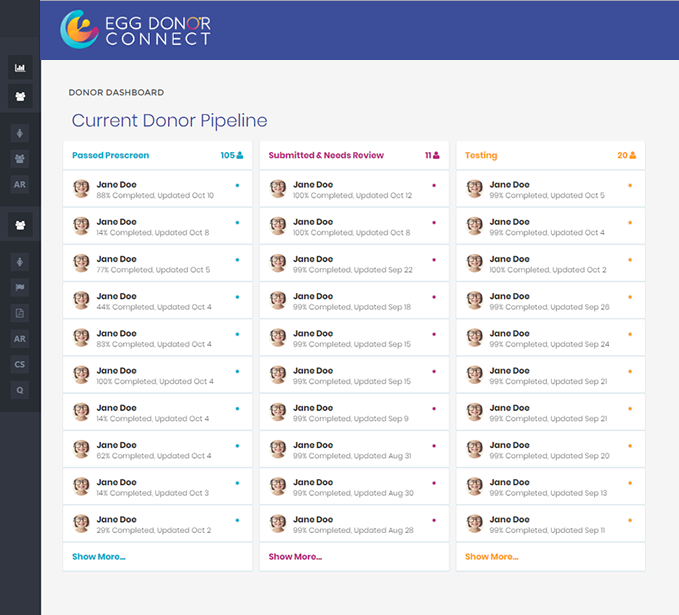 Review Your Donor Pipeline
Manage Prospective Donors
As passionate as we are in improving the donor experience, we make Egg Donor Connect as fast and easy as possible for your team to manage your prospective donors.
How can we save you time?
Using our thoughtfully layed out dashboard that highlights the latest activity from donors who are applying.
Automatically send friendly reminder emails to donors who started but haven't finished your questionnaire.
When reviewing a donors questionnaire, we highlight all their answers which you may need to investigate or which may be outright disqualifying.
Trusted by over 90 clinics, agencies & frozen egg banks
Schedule a demo
If you're looking for software to attract more donors to your pool than ever:
Contact us for a 15-minute demo